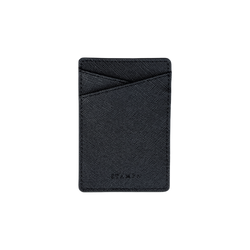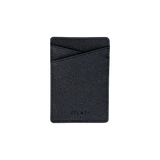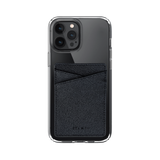 S T A M P A
Black Phone Card Holder
This slim phone card holder is made from sturdy 100% saffiano leather. The design features two card slots and strong adhesive tape for a firm, long-lasting hold. This universal design attaches securely to your phone case, providing a convenient way to store your ID or credit cards for a day out shopping.
Height: 6.5 cm | 2.6"
Width: 9.0 cm | 3.5"
*Suggested Use: Stick onto a phone case (Not Silicone). Do not stick directly onto your phone and don't tear up after sticking.
*Not compatible with iPhone 12 Mini.
Avoid contact with perfumes, cosmetics, and other chemicals that may affect the state of the leather and metallic foil. When needed, we recommend to wipe the product with a cloth or an alcohol-free wet wipe.
Our light-colored leathers are susceptible to color transfer if exposed to dark colored leathers or fabrics, such as denim. Alternate the use of your product to extend its lifespan.
Please note that small marks, variations in color, and veins are natural features of leather, and should not be considered imperfections.